Below is the browser market share for January 2007, based on the traffic to my top site:
IE: 66.14%
Firefox: 30.06%
Opera: 2.20%
Safari: 0.67%
Mozilla: 0.56%
Compared with December numbers, IE showed a decrease of 1.86%, with most of the lost market share going to Firefox, which gained 1.76% during that time period.
Below is a plot of the browser market share for the past 5 months: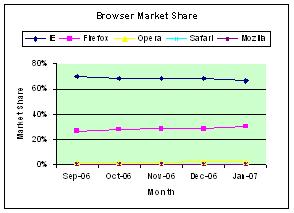 From the graph, it is apparent that IE is going through a downward spiral, and Firefox has been gaining market share. With the recent release of Vista to the consumers, it will be interesting to see whether that will have any impact on the browser market share.